LLC is a very economical Laser Control System. It can work on long distances giving the volume/level data inside the tank. Easy to be installed by simple screwing on the lid of the tank (into a 1"1/2 threated hole).
LLC gives:
Fuel level inside the tank.
Volume of fuel inside the tank (the product volume is computed against "tank tables" (level-to-volume).
Two user-defined alarms can be chosen (ex: pre-minimum and minimum).
Alarms sending, without SIM, via MFF2 very economical Connection system. It uses the best connection platform of the tank installation area.
Geo-localized position on map of each tank in order to have an immediate view of the position of the alarmed tank (ex.: minimum level). It allows a prompt refilling without any blackout of the tank service.
Silent and periodical check of the level and immediate sending of any variation or of the chosen alarm.
The transmission and the data reading take place through an LSI portal open to the customer. Different choice on request of the customer can be implemented.
The LLC is powered by a solar panel. It can be pulled out (till 2 mt far) in case of underground position or in constant shadow.
An additional integrated long-life battery (2 years minimum) can feed the LLC in case of need.
The threaded 1"1/2 connection is included. The LLC ATEx Version isn't yet available.
The LLC can be personalized on customer request.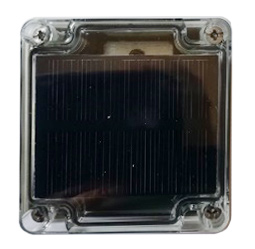 Front View (temporary image).